While the Gridd® Adaptive Cabling Distribution® System allows for quick and easy access to power and data cabling, Gridd® Mobile is the augmented reality (AR) technology app that allows you to view, modify, or upgrade your cable networks to meet the ever-changing needs of property owners and tenants with ease. Using a smartphone or tablet with the Gridd® Mobile app allows tradespeople, facility managers, designers, engineers, and contractors to quickly access all relevant project details in one simple platform.
What Does Gridd
®

Mobile Do?

Gridd Mobile provides a centralized data location for all your cable and power management files. The intuitive Gridd Mobile interface allows facility teams to access critical project data, such as:
AR views of cabling systems

2D and 3D As-built drawings

Original site photos 

Component lists

Product cut sheets

Attic stock

How-to guides
Team members can use Gridd Mobile to preview various parts of the building process. This can simplify pricing and the project scheduling process. 
Once construction is complete, Gridd Mobile allows facility team members/managers, IT administrators, and maintenance personnel to manage facility changes without digging through volumes of project files and as-built drawings.
The digital access that Gridd Mobile provides makes the design, coordination, installation, or reconfiguration of any Gridd space even faster, while also making life easier for any successive team members or contractors.
The AR feature lets users see the entire cabling network infrastructure in real-time, under the floor covering, and easily track any power, voice, or data cabling from its source to the final connection point.
When used with the Gridd Raised Floor System and Gridd Power Systems for new construction, remodel, expansion, and modernization projects, Gridd Mobile simplifies the entire cabling management process.
Gridd Mobile and AR          
If you're not familiar with AR yet, AR is a technology that creates a composite view by combining the user's view of the real world with a superimposed computer-generated image on a user's viewing device. Gridd Mobile uses the device's camera and gyroscope to provide the  AR feature for users. AR gives an in-floor view of power and data cable locations, removing any guess work and saving time and money.
How Do Facilities Teams Use Gridd Mobile?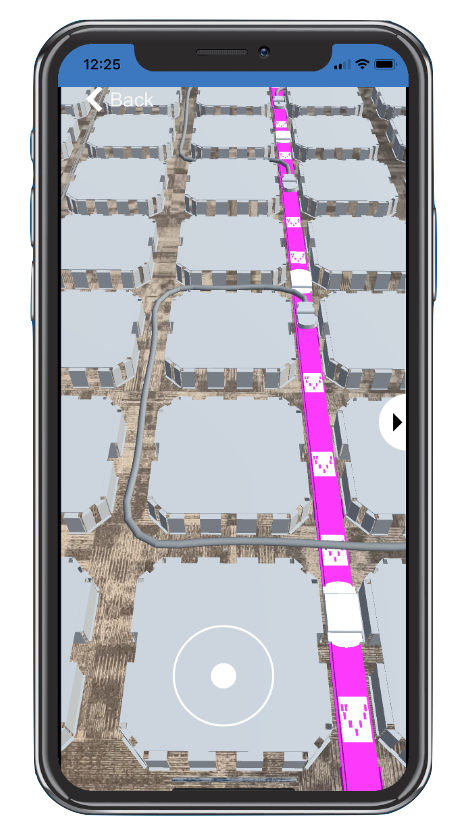 Fortune 500 companies across the globe use our single-point access platform to allow project teams and individuals to view all Gridd, Gridd Power, and cabling installation details for your project. 
In short, Gridd Mobile simplifies the design process, streamlines communications between teams, and provides a simple, easy-to-use facility management solution for our clients.
New contractors or installers can view the complete catalog of Gridd product installation videos, as well as instructional videos on how to begin a restacking project or new installation. With everyone on the same page, timelines get shorter and labor costs go down.

Easily isolate, test, or reconfigure any component of the power or cable distribution system without inconveniencing office staff by opening walls, cutting concrete, removing ceiling tiles, or making a huge mess.

QR codes simplify ordering, installation, and inventory control, for new projects, upgrades, maintenance, and even move-outs. 

 Simply scan  a QR code and Gridd Mobile will create a map of the cabling infrastructure on the user's screen. Follow the map to locate the component that needs service.

Digital files and photos eliminate the need for file-sharing programs, and the risk of email bounceback due to oversized files. Gridd Mobile streamlines the entire communication process for your project, from initial design to facility management.

Users can easily compare original site condition photos with as-built drawings while project schedules and budgets are being determined, finalized, or amended.

How-to videos and guides show new employees and contractors how to install Gridd components and provide guidance to use each Gridd Mobile feature to its maximum benefit.
From conceptual design to final drawings, and construction to facility management, numerous Fortune 500 companies use Gridd Mobile to simplify their complex cabling and power networks when using Gridd® Access Floor.
Additional Gridd Mobile AR Features
To make Gridd Mobile even more user friendly and responsive to your specific needs: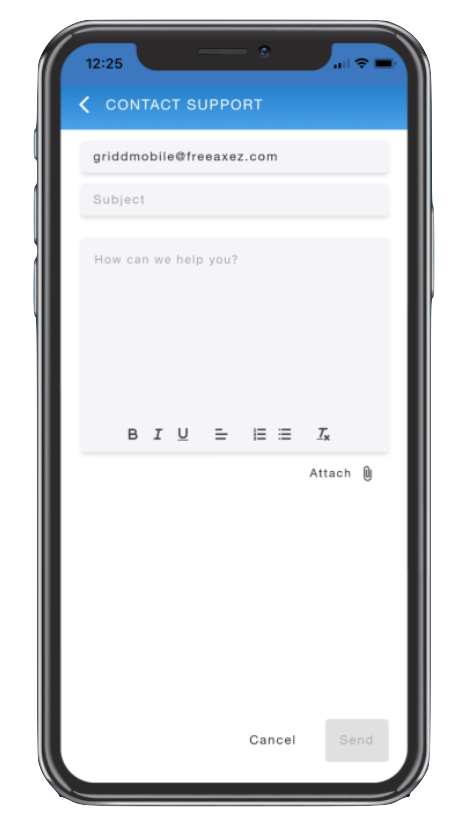 Administrators can track the changes made by other team members and assign or remove access for those involved in the design, coordination, installation, expansion, or reconfiguration process an unlimited number of team members. 

Gridd Mobile users can ask questions and submit photos to the Gridd Mobile Support team, allowing for a direct route to communicating with FreeAxez.

The Attic Stock feature allows managers to view and update their Gridd product inventory at a moment's notice for planning installs, upgrades, or reconfiguration projects

As part of our pledge to the circular economy production model, all Gridd components have been designed for reuse. The Gridd system can be reconfigured infinitely, or picked up and moved to the next location and reused in a new setting. Additionally all new Gridd components are compatible with components that were designed 25+ years ago. At FreeAxez, nothing is designed for obsolescence. 
With this level of cross-application access, IT supervisors and project managers, electricians, engineers, and maintenance techs can view all the project files, information regarding Gridd components, and all FreeAxez components available during an install, move-out, or upgrade project.
To see what Gridd Mobile can do for your next project, connect with one of our Advisors.